Scrumptious Seafood: Chirashi-zushi – vinegared rice topped with salmon
The Gulf of Georgia Cannery is honoured to have Yumi Matsushita, a Japanese exchange student volunteer working with us for four weeks.  Yumi will be helping visitors in the Cannery and working in the administration building. She will also be writing blog posts. Given Japan's proximity to the sea, its residents rely heavily on seafood. I asked Yumi to contribute a Japanese recipe for our Scrumptious Seafood posts. Here is her contribution:
Sushi is one of the Japan's most well-known dishes, but do you know Japan has many types of sushi? Japanese people don't eat nigiri – vinegared rice topped with raw fish – very often.  Rather, Japanese people commonly eat "Chirashi-zushi" which consists of a bowl of sushi rice topped with a variety of ingredients. In essence "Chirashi-zushi" means sprinkles. I'd like to introduce you to this dish mostly because many Canadians may not know about it. Basically you can add any ingredients you like in Chirashi-zusi. In Japan, it is different from region to region. Often regional foods are used as toppings. Japanese people are well known for their longevity and this food could be the key to maintaining good health. If you are curious, I really recommend that you try it!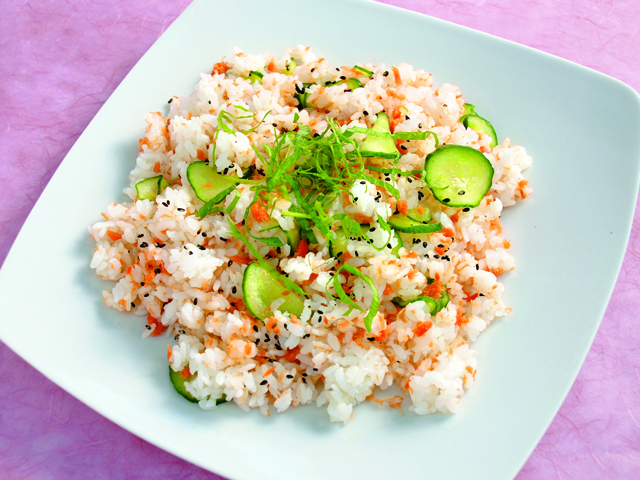 Chirashi-zushi: Vinegared rice topped with salmon
Ingredients:
300g cooked rice
15ml vinegar
10ml sugar
5ml salt
60g baked salmon
5 to 6 shiso leaves
sesame seeds to taste
lemon to taste
Directions:
1) To make the vinegared rice, mix the rice with the vinegar, sugar and salt.
2) After salmon has cooled, add it to the rice.
3) Add shiso leaves and sesame seeds.
4) Squeeze lemon juice over the salmon.
5) Mix all the ingredients together, and you have Chirashi-zushi.