Scrumptious Seafood: Buckwheat Crepes with Smoked Salmon and Cream Cheese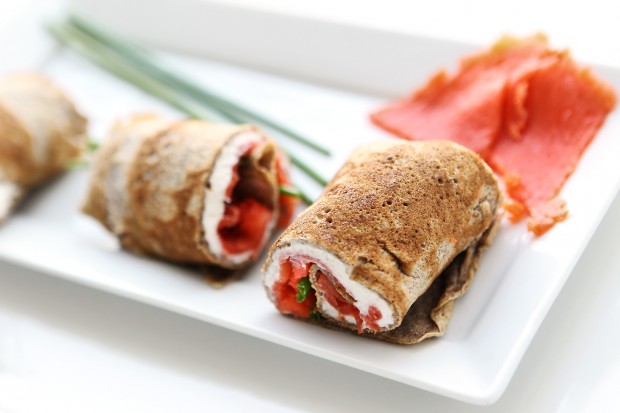 For my last meal in Ottawa, before the 5 hour flight back home, the family hosting me prepared their family's favourite breakfast: crepe rolled sausages doused in pure maple syrup. They were delicious, a perfect balance between savory and sweet. This reminded me of the meals offered at eastern Canada's sugar shacks, where their all-you-can-eat breakfasts are renowned for the pairing of sweet and savory, and the bottomless bottles of maple syrup. Given that Canada's west coast doesn't have maple syrup flowing from their trees, there is a delicacy of a different kind: salmon. Here is a crepe recipe offering a little taste of the west coast.
Buckwheat Crepes with Smoked Salmon and Cream Cheese
Ingredients:
1/4 cup all-purpose flour
1 cup buckwheat flour
2 eggs
1/2 cup milk
1 cup water
Canola or grapeseed oil
4 ounces cream cheese, softened
8 ounces thinly sliced smoked salmon
Salt
Freshly ground black pepper
16 to 32 chives
Directions:
1. Combine all-purpose flour, buckwheat flour, eggs, milk and water in a bowl. Whisk until smooth; refrigerate for at least an hour.
2. Heat a 10-inch nonstick skillet over high heat for about 2 minutes. Add a thin layer of oil and wipe it out, leaving just a trace behind. Pour in 1/4 cup batter and swirl it around so it coats the bottom of the pan. Pour any excess batter back into the bowl. Adjust the heat to about medium so that the batter dries on top before it burns on the bottom; it will be ready to turn in 1 to 2 minutes.
3. Turn and cook the second side for about 30 seconds, then remove to a plate. Repeat to make a total of 8 crepes, adding oil to the pan if necessary. Let crepes cool to room temperature.
4. Spread each of the crepes with a thin layer of cream cheese. It need not cover the crepe completely, but try to reach the left and right edges. Make a layer of salmon on top of the cheese, again trying to extend it to the left and right edges. Sprinkle each crepe with salt and pepper to taste and top with 2 to 4 chives.
5. Roll up the crepes from the bottom edge, cut into 1- or 2-inch sections and serve.
Yield: 4 servings
Per serving: 395 calories; 21g fat; 7g saturated fat; 155mg cholesterol; 22g protein; 29g carbohydrate; 3g sugar; 6g fiber; 585mg sodium; 115mg calcium
Variations: If you don't have buckwheat flour, make crepes with 3/4 cup all-purpose flour, 1 large egg, 1 1/4 cups milk and 1 tablespoon melted butter. For an even quicker meal, substitute whole-wheat tortillas for the crepes, warming briefly before assembling. If you don't have or don't like smoked salmon, substitute thinly sliced roast beef and add 1 or 2 teaspoons of prepared horseradish to the cream cheese.