Scrumptious Seafood: Mackerel Pâté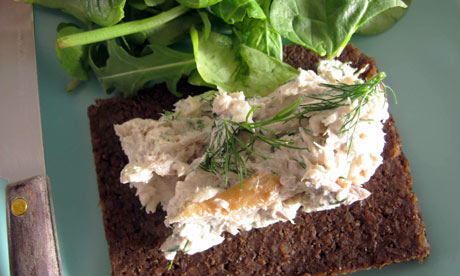 As the festive season approaches, so does the prospect of holiday entertaining – no pressure! Make it an easy one this year with a pâté and your choice of bready base. Give this scrummy mackerel recipe, as featured in the Guardian, a whirl. Bonus: Canadian Atlantic mackerel is a sustainable seafood Best Choice.
Ingredients
3 hot smoked mackerel fillets
150g cream cheese
100g crème fraîche
3 tsp freshly grated horseradish
Lemon, to squeeze
Small handful of dill, finely chopped
Directions
1. Skin the mackerel fillets and do a quick check for any bones – they're not unknown. Flake three quarters into a food processor with the cheese, crème fraîche and horseradish and whizz until smooth.
2. Add a good grinding of black pepper, and lemon juice to taste, then fold through the dill and the remaining fish. Serve with rye bread or crisp toast.
Serves 4